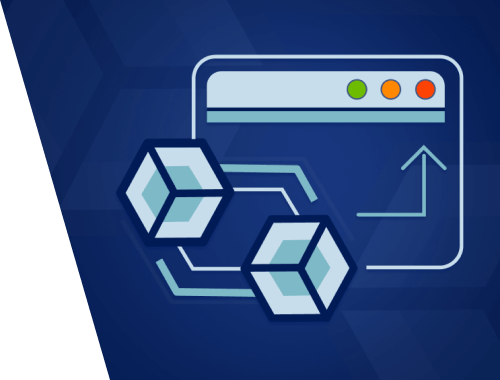 Off-Page SEO Tactics: Beginners Guide 2022
Article stats:
| | |
| --- | --- |
| Linking websites | N/A |
| Backlinks | N/A |
| InLink Rank | N/A |
Off-Page SEO Tactics: Beginners Guide 2022

So you've designed a user-friendly website and you've populated it with great content. Is it going to be enough to rank on page one? You wish! No, if you want your website to be truly competitive, you have to move onto the final stage of search optimization — off-page SEO.
What is off-page SEO?
Off-page SEO refers to search optimization activities that take place outside of your website. A large part of these activities is about building a backlink profile, but it's more than that. Off-page SEO is also about managing your website's reputation through content marketing, listings, reviews, forums, and social media.
Why is off-page SEO important?
When deciding how to rank your website, Google looks at its content quality, usability, and reputation. The first two are often considered to be the most important but it's more of a package deal — your SEO is not complete until you've optimized for all three. A website with a bad reputation or no reputation at all will always lose to a website with a good reputation, no matter how great the content or how fast the pages.
So, if you feel like you could use a break from technical optimization and content creation, here are some of the things you could do to improve your website's reputation:
1. Build links
Linking to your website from other websites is one of the most abused SEO strategies that have ever existed. Between private blog networks, guest posts, and comment spam, link manipulation has gotten so bad that many types of links are no longer considered by Google to be ranking factors. And yet, when done properly, backlinks are still very powerful.
How to build links the right way
The success of your link building campaign used to be measured as the total number of created backlinks. Today, it is no longer the case. What we are looking for now is the quality of created backlinks and it is measured using the following attributes:
Links are from related websites
Links from websites within your industry are considered to have more weight than links from unrelated websites. For example, if you are a bicycle shop, you should pursue links from bike review websites, cycling communities, and bike manufacturers. At the same time, if you were to get a link from a lifestyle blogger who is writing about a different thing each day, this link would not carry as much weight.
Links are from high authority websites
Those websites that link to you should themselves have a healthy backlink profile, i.e. follow all of the best practices listed here. Higher authority websites pass more link juice, while lower authority websites may actually damage your rankings. This is why you should always monitor changes to your backlink profile and disavow any links from low-quality sources.
Links are from a multitude of domains
Getting links from the same website follows the law of diminishing returns, where each consecutive link is less and less valuable. That's why you should strive for a diverse backlink profile. It's better to have fewer links on many different websites than a lot of links all coming from the same website.
Links are placed within the main content
The context of where your links are placed is also important. Links placed within the main content and surrounded by relevant text carry more weight than links placed in footers or sidebars, or links dumped as a table with no text to give them context. For example, some websites have pages dedicated to partners/suppliers/affiliates, where there is just a list of links with company names as anchors — pages like these are not very valuable for link placement.
Links are 'dofollow'
The 'nofollow' tag is often added automatically to all links placed within user-generated content, such as social media posts, Reddit threads, Quora answers, Medium articles, and comment sections. The tag is mostly a safety measure — it tells Google that website owners do not endorse the link and do not want it to influence their reputation. Links tagged as 'nofollow' do not pass any link juice to their destination websites and do not influence the rankings.
Links are clicked on
Google has a patent that says it may discount backlinks that aren't clicked on by actual users. Basically, if you have a lot of backlinks and they do not deliver any traffic, Google may suspect that those links were created artificially. It hasn't been confirmed whether Google actually uses this patent, but it sounds like a reasonable way to assess backlink quality. To this end, I would suggest focusing on links that may interest actual users.
How to find backlink prospects
The best way to find new websites for placing backlinks is to steal them from your competitors. If you could find the backlinks of your competitors, you would have a list of websites that they have vetted and successfully convinced to carry backlinks. That's most of the groundwork. All you would have to do is contact these same websites and see if they are willing to carry your backlinks as well. And it can actually be done with just a few clicks:
Launch SEO SpyGlass and got to Domain Comparison > Link Intersection.
Add up to ten of your competitors and click OK. Wait for the program to collect the data.
In the resulting table select Prospective domains and use filters to set InLink Rank to 50+ and the number of 'dofollow' links to at least one. This will give you a list of quality websites that have created 'dofollow' links to your competitors.

Work through the table and see which of these websites might be interested in working with you as well. Pay special attention to the websites that have linked to more than one of your competitors — it means they do not have an exclusive partnership and are likely open to new collaborators.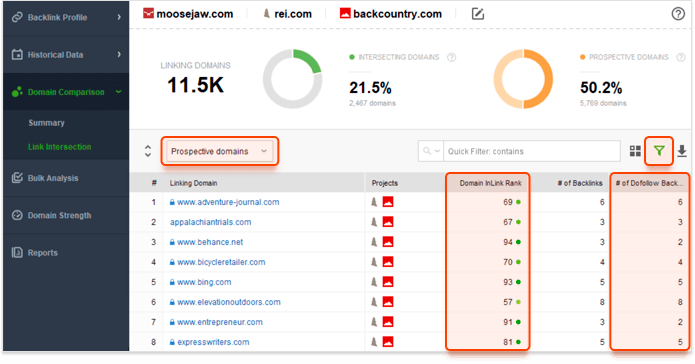 In the example above, I have used SEO SpyGlass to find backlink prospects for Moosejaw — an online retailer of outdoor gear. I have added two of its most prominent competitors and got a list of over 11K linking domains. After I've applied all the necessary filters, the list was down to a little over 800 domains, many of which looked like promising backlink prospects.
2. Become an entity
Google describes an entity as a thing that is singular, unique, well-defined, and distinguishable. It could be a person, a brand, an object, a place, or a concept — virtually anything notable. And, whenever Google finds a new entity, it adds this entity to its knowledge panel database, which now includes over 500 billion facts about 5 billion entities and is growing rapidly.
Entities are important in two ways. One — Google can reliably identify entities either by name or from context. Two — Google understands the relationship between different entities. So, for example, if someone mentions your brand online, Google can find this mention and add it to your brand's reputation. In effect, entities are the new backlinks.
How to use entities for off-page SEO
The definition of entities is a little bit confusing, so let's talk about a few ways you can apply the theory of entities in real life.
Create a strong brand
Come up with a distinguishable brand name and try to establish it as an entity in the eyes of Google. Claim your GMB listing, create business profiles on social media, get citations from key business directories in your market, and use consistent branding in your marketing materials. As your popularity grows, Google might recognize your brand as a separate entity and your reputation will start benefiting from unlinked mentions as well as linked ones. Since most mentions are unlinked, this should give a measurable boost to your rankings.
Tip!
Use
this tool
to check whether your brand is an entity yet.
Turn your authors into experts
It says in the Quality Rater Guidelines that author expertise is a major signal of content quality. Authors who are recognized as experts in their field and have their work featured across a variety of websites can have a positive effect on the rankings of their content.
To this end, try to convince Google that people creating content on your website know what they are doing. Make sure that your authors have maxed out profiles on social media as well as on industry-specific platforms. Encourage them to submit work to other related websites and to become active members of niche communities.
Tip!
You can actually help Google make a connection between your authors and their other work by using the '
sameAs
' tag. The tag is a part of Schema markup and it allows linking your authors' names to their professional profiles elsewhere.
3. Create a GMB profile
Google My Business (GMB) is like a website away from your website. It is a Google-owned business directory that allows you to create very advanced listings, including contact details, business hours, photos, products, services, reviews, announcements, and dozens of other types of information. Once you fill the listing out, it gives you a major boost in local search, which makes it an essential element of your off-page SEO strategy.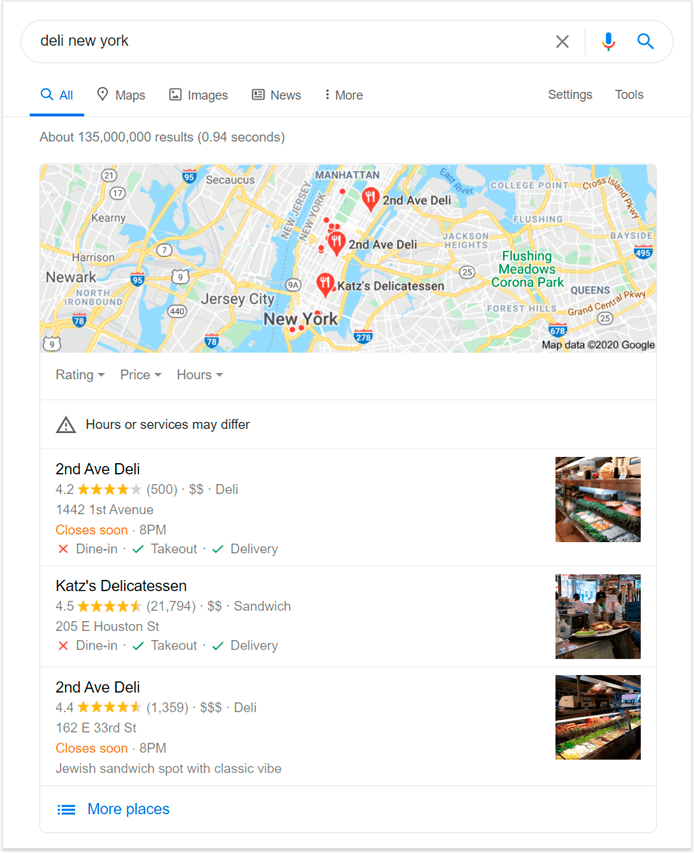 Above is a screenshot of a typical local search and you can see that the results are dominated by a panel of GMB listings. No one would be able to compete with these listings if they didn't have a GMB profile.
How to create a GMB profile
First, claim your listing by visiting the GMB page and stating your company's name, its address, business category, and at least one form of contact. After that, you will be asked to verify your business and voila — your listing is claimed. Once you get access to your GMB dashboard, Google will offer you many additional ways to optimize your profile: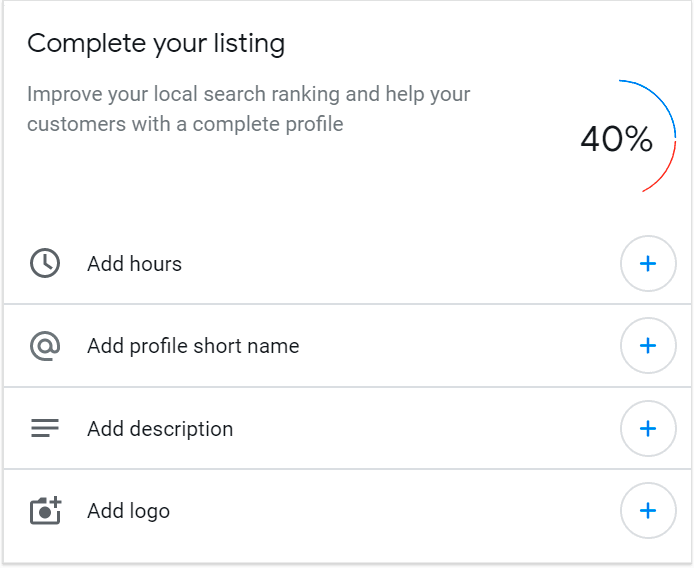 Keep in mind that different business categories can use different types of GMB enhancements. For example, restaurants can use GMB listing to offer table reservations and online orders, event organizers can sell tickets, while other types of businesses might be able to sell products, offer gift cards, or collect donations. Make sure to explore all available options and optimize your listing to the fullest.
4. Manage reviews
The success of your GMB listing in local search will heavily depend on the number of reviews you get from the users and your average score.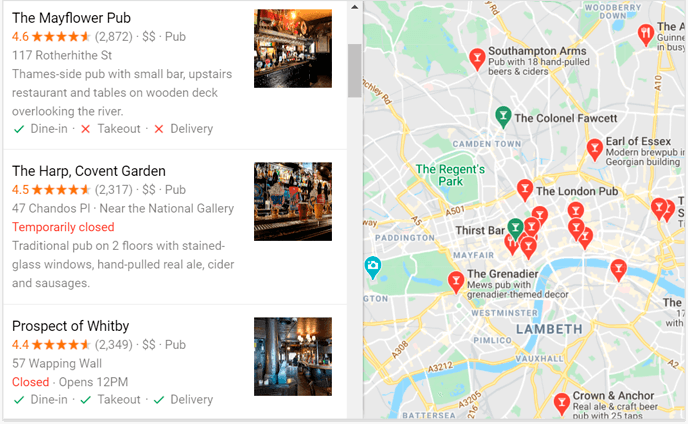 The image above shows the results of me searching for a pub in London. All of the top listings have thousands of reviews and a pretty good score, but as I move down the list both of these numbers are gradually getting lower.
How to get more GMB reviews
Don't wait for your customers to start leaving reviews on their own — you will lose valuable time and miss out on GMB leads. Instead, if you see a satisfied customer, ask them to visit your GMB listing and leave a review. You can do it in person while conducting business, but you can also send them a follow-up email, ask them on your website after a successful transaction, or just ask your subscribers on social media.
How to get a better GMB score
Monitor your reviews and try to neutralize bad reviews as quickly as possible. The sooner you react to a bad review the higher the chances of resolving the issues and having the client edit their rating. The key here is to be genuine, focus on the client, and try to actually improve their overall experience.
5. Be social
It's been established again and again that Google does not use social signals (subscribers, likes, comments) as ranking factors. On top of that, any backlinks placed on social networks are tagged as 'nofollow' and thus do not pass any link juice. And yet, there is still a way to use social networks for search optimization.
The fact is, many social networks are also search engines, albeit with a narrower focus. For example, when I'm learning about a new brand or a product, I would often check out its Instagram profile and see tagged images from real users, I would look for a video review on YouTube, look for honest opinions on Reddit, and maybe even read through some customer feedback on Facebook.
With this in mind, your company's social profiles should be optimized much in the same way you optimize your website: be user-friendly, have the latest information and contact details, and be tied to a location, if applicable. A social profile is just another way for a user to find your website, and so it pays to make it look inviting.
Final thoughts
As I said at the beginning, off-page SEO is mostly about building links, but a few other tactics are well worth considering. GMB is a must for any local business, although personally I'm also curious to see what is going to be the role of entities in the future of search. Have you given any thought to entities in your search optimization? What do you think is the best way to use them?