Why Rank Tracker?
If you think that a keyword rank checker tool providing unlimited data doesn't exist, you've never tried Rank Tracker. Track keywords with no limit, check positions in SERPs, see rankings for the exact location, and analyze the ranking performance of any keyword — all in one ranking tool.
Keyword position monitoring,
as advanced as it gets.
Rank Tracker is the most customizable rank checker tool you'll come across. Check positions globally or in local search, get Google SERPs or any other search engine ranking, scan the top 50 or 1,000 search results — you can do that even with the software's free trial. The Google rank checker will let you see keyword ranking positions in Universal results as well as Google Map listings. The best part is, everything is unlimited in this keyword position checker — including websites, search engines, and keywords to track.
Whether you need to track keyword rankings once a week or daily, on desktop or mobile devices, in Google or alternative search engines — Rank Tracker's got you covered. Monitor your site average position and visibility score. Observe how your ranking position changes, notice when your target keyword enters the top position or gets a featured snippet on Google SERPs, and track competitor keyword ranks.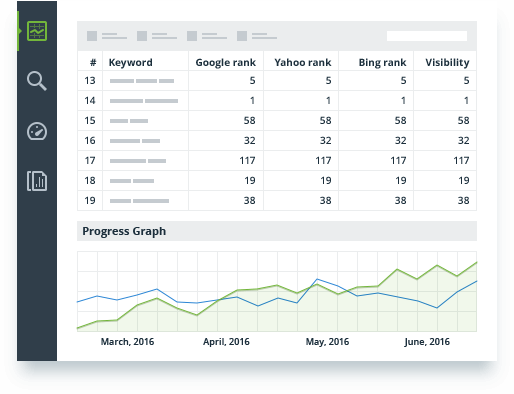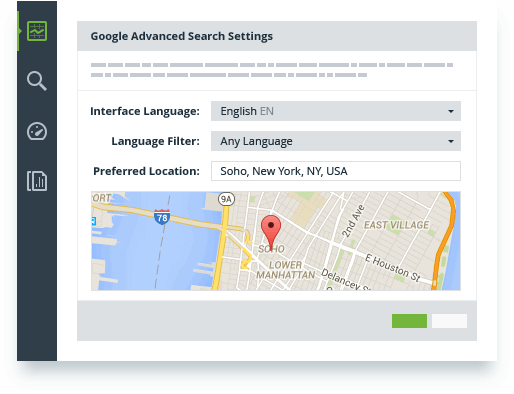 Geo-specific keyword rankings
for any location.
Looking to track keyword rankings for a location different from your own? Or, perhaps, search engine rankings from multiple locations? You've come to the right place. Rank Tracker is the only local rank tracking software that accurately checks positions for the exact location of your choice: country, state, city, or even an exact street address. Like everything else in this keyword position tracker, these locations are — you guessed it — unlimited. With the tool's 400+ localized search engines, you'll get the most accurate keyword rank checking you ever need.
23 keyword tools in one.
All popular keyword research tools are integrated right into the Rank Tracker keyword rank tool: Google Ads Keyword Planner, Competition research, Keyword Gap, Related Searches, Autocomplete tools, Related Questions, and many more research tools will help you find the best optimization ideas. What is more, you can integrate Google Analytics and Search Console to quickly examine your current keyword ranking positions. Used together, these sources will give you thousands of keywords you wouldn't have found elsewhere on the web. As you find keyword ideas for your site, the tool will automatically group them by topic, so you can analyze and target entire keyword groups instead of going through bulks of terms one by one.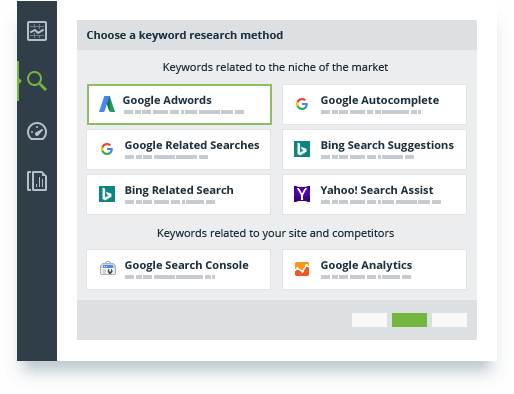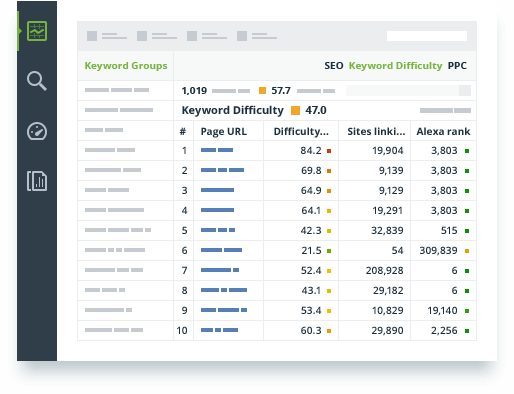 Keyword analysis, reinvented.
The ranking tool will help you check keyword potential and prioritize them for targeting. In addition to such SEO metrics as search volume data and competition, the rank checker can calculate Keyword Difficulty for every term — a complex metric that takes into account all SEO strengths and weaknesses of the sites of your top 10 competitors. Combine the keyword difficulty score with the traffic checker stats from Google Analytics to decide which keyword will be easier to rank for. See which SEO factors, keywords, backlinks, or pagespeed, will help you compete for the best Google ranking. Switch between desktop and mobile keyword rank tracking to see the real picture of SERPs. Picked the winners? Switch to the rank checker's Keyword Map module to assign keywords and groups to specific URLs to further monitor keyword positions.
SERP checker with competitive SEO intelligence.
Use one of the most efficient strategies — watch your competitors. The keyword rank checker lets you track competitors' keyword tactics and see how well they're doing in organic search results. The rank checking software will track keywords your competitors already rank for. Analyze their valuable SEO metrics and weigh your chances to rank for those keywords as well. The keyword position checker also analyzes the websites of your top 10 ranking competitors for topic-relevant terms with the TF-IDF algorithm, which will help you build up your authority in semantic search results. Ready with the killer keyword list? Add your SEO competitors to the tracking software to check positions and SERP features and monitor how your website performs compared to them. Keep track of competitors, their average position and ranking history, and see how your ranking position improves once your pages have been optimized for the selected keywords.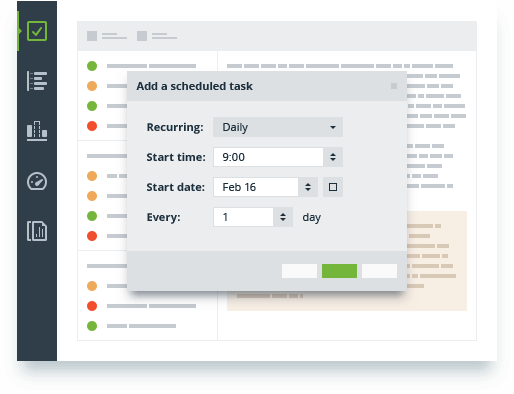 Keyword position tool with handy automation of tasks.
There's no need to check rankings manually when you can use scheduling functions. Set the tool to check the ranking progress for your target keywords as often as you need. It takes only a few minutes to make your daily rank checking automated, and the search engine rankings for your website will be checked on autopilot — quick and easy. This way, you don't even have to open your rank tracking software, you will see all the keyword position fluctuations for your pages by the time you need them.
Truly custom ranking reports.
Rank Tracker's SEO reports are 100% customizable, white-label, and designed to look fabulous across devices. Sharing them with clients is super easy: the rank checker will upload your report to the cloud and instantly give you a shareable link. Looking for a way to automate reporting completely — be it keyword positions or SEO stats? Set up a scheduled task, and the rank checker will build your keyword rankings reports on autopilot and deliver them to clients on your schedule, as a direct link or attachment, in a plain text or custom HTML email.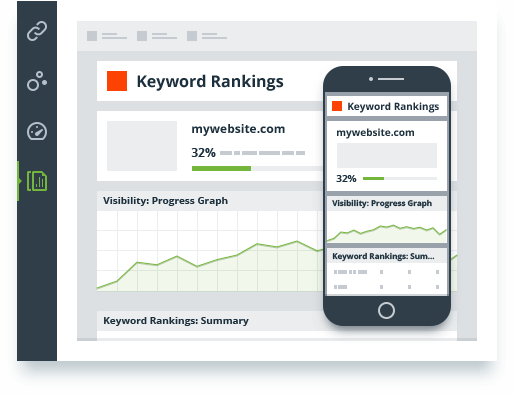 Run accurate SEO rank tracking with the right ranking software:
Endless keyword ideas for free
Unlimited keyword position tracking
SERPs features analyzer
Desktop and mobile rankings
Local SEO rank tracking
Analytical search data
Here's why our users love Rank Tracker:
No other free rank checker provides the same accurate ranking information and SERP intelligence as Rank Tracker. It's definitely the best keyword rank checker tool I've ever seen. The reports are clean and very easy to customize, so I can include only the data that's relevant to each client.
Melissa Cahill
Owner
Panoptic Online Marketing
Rank Tracker program is FAST! It's one of the fastest (if not THE fastest) rank checkers I've ever used. When I run a rank check for the 200+ keywords I target, it spits out the ranking results for Google, Bing and Yahoo in under a minute. After using this keyword SERP tracker and keyword position checker for the past few weeks, I'm hooked.
Ken Lyons
Co-Founder
MeasuredSEM
Rank Tracker platform has been my number one keyword rank checker for keeping track of keyword positions in SERPs for a long time, but it wasn't until recently that I realized its full potential for keyword research. The tool has every feature you can ask for of a keyword tool. With its 20 different keywords sources, it's not to be beat when it comes to long-tail keyword ideas.
Nate Freedman
Online Business Consultant
SEO N' Stuff
Free keyword rank tracking.
No strings attached, no credit card required. Download a free copy and take this keyword position checker for an unlimited test drive.

FAQ
✅ What is rank tracking?
Rank tracking is the process of monitoring how your website performs in search engines for this or that keyword. Is it ranking on the first page of Google? Is it shown in Images or Video search? Is it included in the local ranking pack? What is a page's average position for your target keywords and the click-through rate from the organic?
To keep your SEO campaign on track and find the room for improvement, you need to regularly check search engine rankings for all the keywords you target.
✅ How to track local keyword ranking?
Often you need to know how your Google positions differ depending on the searcher's location. For instance, you may need to check keyword position for the two nearby cities you operate in. With Rank Tracker, you'll be able to set up separate tracking for each of the locations and monitor your ranking performance in the most precise manner.
✅ How to track featured snippets?
Featured snippets are a special type of search results, shown above the top 10 ranking websites. It, thus, attracts much attention and can lure additional search traffic to your page. To track this type of results in Google ranking, you need to enable the Universal results tracking mode in your Rank Tracker tool.
✅ Can I build custom SEO ranking reports?
With Rank Tracker, you can fully customize the data and the look-n-feel of your reports. Feel free to brand them with your company logo and brand colors, add customer information and decide on the ranking data to include. You can manage your report templates in a user-friendly drag-n-drop editor.
✅ Can I check the position for free using Rank Tracker?
Rank Tracker comes in three editions — the Free, Professional and Enterprise versions. You can pick the license depending on the features you need. But the most important SEO features, including keyword research and keyword position checker, are available completely for free.